Go to

For more information see our home site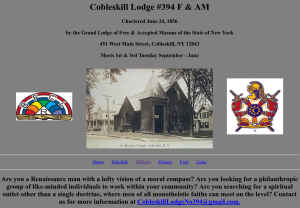 Officers - Trestleboard - History
Not a Mason?
Don't know a Mason, then
Discover Masonry
2017-10-24 16:58

-

( Reads)

-

Brothers all,
Our next stated communication of Cobleskill No. 394, on Nov. 7 at our Lodge builidng, will be the occasion for the final visitation by our own Brother and District Deputy, R.W. Theodore Volkert, speaking on behalf of our Grand Master, M. W. Jeffrey Williamson. As such, it's a special occasion for us, to welcome our Brother and district leader home, focus on the Grand Master's designs upon the Masonic Trestleboard, and spend an evening of good fellowship with other brothers in the district — so it'd be extra-special if we could have a great turnout of our Brethren from R.w Ted's home Lodge. If you haven't been to Lodge lately, this would be an excellent opportunity, one and all, to come see what the excitement's all about!
Also, this year, we welcome the Brethren of our partner Lodge (and soon to be joined with us in Merger, all things willing), Working #553, for whom this also constitutes their (likely final) official visitation.
The evening's festivities will begin with dinner before the formalities; our excellent cooking squad under the leadership of J.W. David Grace is planning a feast of ziti with sausage, organic tossed salad, fresh bread, locally produced apple cider and a dessert. Normally we settle down for food and fellowship at 6:30, but given the numbers we'd like to hope will be there, I suspect you'll be welcome any time after 6 or so. (Kindly RSVP to Bro Grace via Masons Online or e-mail at dgrace3 at rocketmail.com so he can plan.)
Then the formal meeting takes place at 7:30, and with the dignitaries on hand, please be on time, if you're going to miss the feed. Also ,we will, under dispensation from Grand Lodge, be opening on the First Degree, per the proposed new changes under consideration by Grand Lodge — so all are welcome, right down to all who stand in the Northeast Corner of the Lodge!
---
Other news from the Lodge:
The Brothers present at our Oct. 17 communication approved two contracts to have significant improvements to heating on both floors of the building done — and with improvements already in the works on the roof, we're looking at upgrades to our Lodge expereince, hopefully for years to come. (These things don't come without a cost, however, and our Building & Maintenance Fund is taking a significant hit to make these things happen. Contributions will be most welcome, and are tax-deductible — and watch for your year-end Dues notice package for an opportunity to add a contribution with your payment. And watch for an invitation from our Trustees to help with cosmetic improvements soon....)
The work of the Merger continues apace. On Oct. 30, the negotiating teams from both our Lodge and Working #553 will be meeting in Cobleskill to hopefully hammer out details of our merger agreement, for the subsequent approval of our respective Lodges and submission to the Grand Lodge committee on Charters. Look for a summoned communication sometime in, probably, late November or December to take this matter up.
Our Bylaws are also under review at the moment — and the three-man review committee hopes to report back to the Lodge with any proposed revisions soon. Perhaps we take them up at the same summoned Communication? Watch this space....
And watch it, also, for news of special year-end events — an Honors Night at which we will present an honored member of our community with the DeWitt Clinton Award, and our annual family holiday party, anticipated to be in early January.
And don't forget the Grand Lecturers' Convention set for Nov. 2; important discussion of those proposed new opening and closing procedures for opening on the first and Second Degrees..... come one, come all.

Yours in Brotherhood,
V.W. Joe Phillips
Secretary, Cobleskill Lodge.